 In November 1938, Medina EC started out of the need to bring electricity to our rural area when big investor-owned utilities would not. People in our small towns knew that electricity would be beneficial to the farms, homes and businesses, and began going door to door to sign members up. They paid $5 to join the cooperative, with hope that electricity would soon be available.
Now, Medina EC continues to provide our rural service area with electricity, powering farms, homes and businesses. Members still pay just $5 to join the cooperative and count on us to provide reliable, affordable, safe electricity while being committed to our communities.
Service Area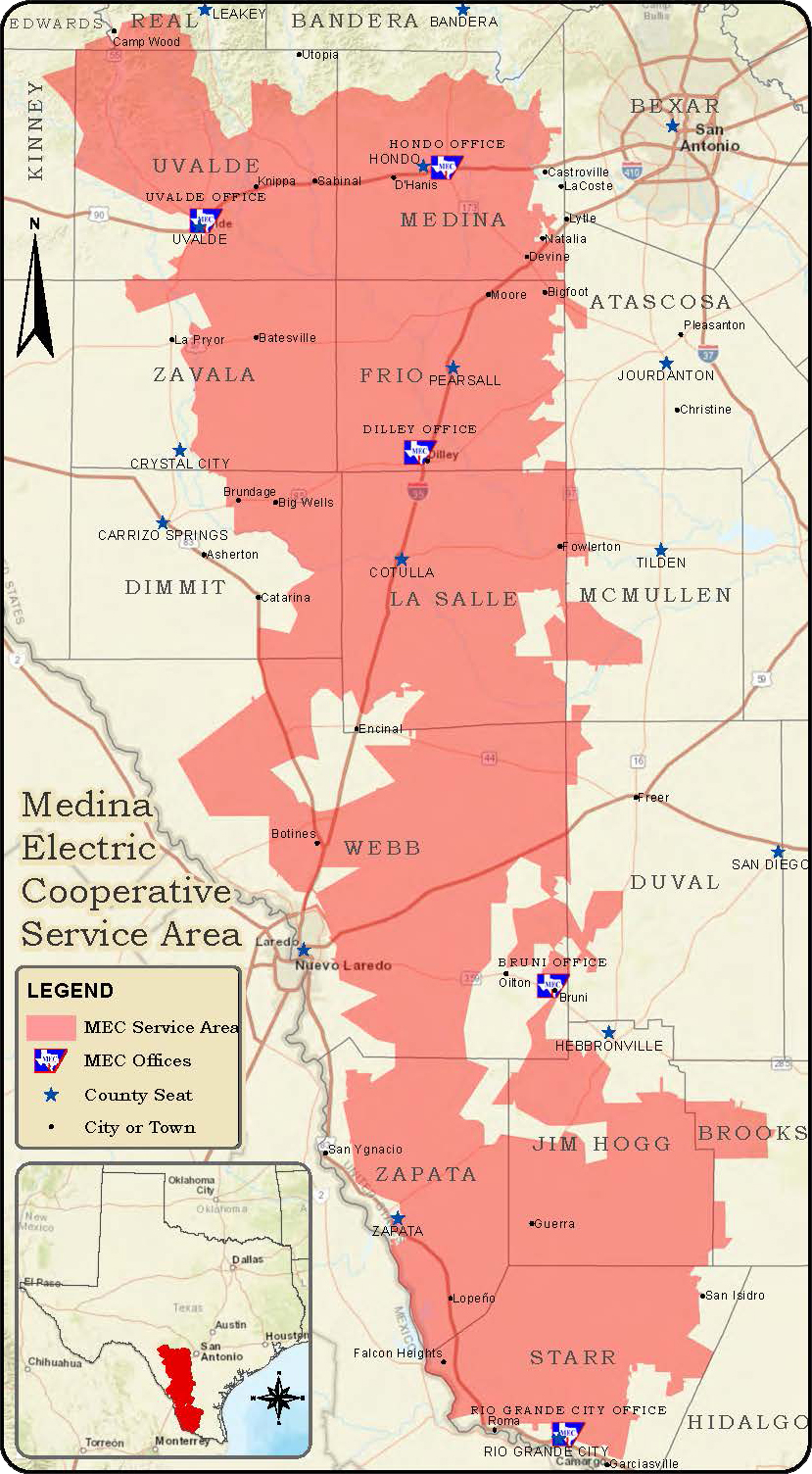 10,750 square-miles in these counties:

Atascosa
Brooks
Dimmit
Duval
Edwards
Frio
Jim Hogg
Kinney
La Salle
McMullen
Medina
Real
Starr
Uvalde
Webb
Zapata
Zavala
Cooperative Principles
We are a voluntary organization, open to all persons able to use our service and willing to accept the responsibilities of the membership, without gender, social, racial, political, or religious discrimination.
We are a democratic organization controlled by our members, who are encouraged to actively participate in the democratic process to nominate and vote for elected board members. It's under this process that allows the members to set policies and make decisions regarding the well-being of the cooperative. The board of directors are accountable to the members.
Cooperative members contribute equitably to, and democratically control, the capital of Medina EC. At least part of that capital is usually the common property of the co-op. Members usually receive limited compensation, if any, on capital subscribed as a condition of membership. Members allocate surpluses for any or all of the following purposes: developing the cooperative, possibly by setting up reserves, part of which at least would be indivisible; benefiting members in proportion to their transactions with the cooperative; and supporting other activities approved by the membership.
We are an autonomous, self-help organization controlled by our members. If we enter into agreements with other organizations, including governments, or raise capital from external sources, we do so on terms that ensure democratic control by the members and maintain our autonomy.
We provide education and training for our members, elected representatives, managers, and employees so we can contribute effectively to the development of the co-op. We take time to inform the general public, particularly young people and opinion leaders, about the nature and benefits of cooperation.
Cooperatives take pride in working together to be more effective for our members. We strengthen the cooperative movement and serve our members by working together through local, national, regional, and international structures.
With member needs in mind, we concentrate on promoting sustainable development in our communities through policies accepted by the members.
We purchase our power from South Texas Electric Cooperative on a wholesale basis. Our power mix varies from month to month, but what we use to provide our members with electricity is generally made up like this:
49% Natural Gas
40% Texas Lignite
9% Wind
2% Hydro
Corporate Documents
full width paragraph
Exceed Member Expectations in Everything We Do